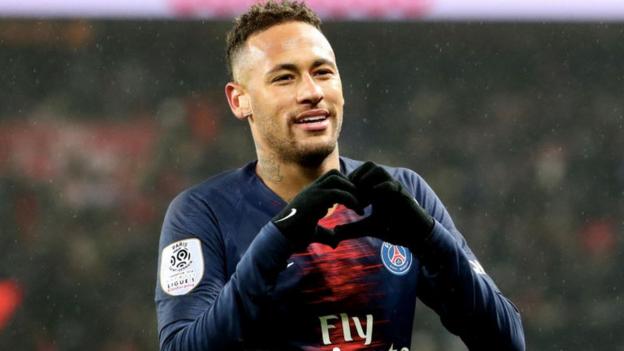 #####
 The protracted transfer saga involving Brazilian forward, Neymar, and his French club, PSG, doesn't seem to be having any smooth landing anytime soon.
The 27-year old player who has gone from being Brazil's Golden boy and Captain, to becoming a very controversial player both on the field and off the field, is currently in limbo, in his French club.
After courting controversies in the French League for several on-field and off-field antics, Neymar blatantly indicated his desire to leave PSG and return to Spain.
However, a potential transfer for the once scintillating and dazzling forward is very far from being completed anytime soon.
Barcelona has always seemed like his likely destination, after he indicated his desire to return to the Catalan club. However, then came Real Madrid, with their desire to sign a marquee player to aid their campaign in the new season.
The big question now is, who is more desperate for a transfer among the three parties involved - Neymar, Barcelona and Real Madrid.
It is clear that Neymar wants a return to Barcelona, but Barcelona are not super keen on making his return any swift; having signed French forward Antoine Greizmann this summer.
As for Real Madrid, they are in desperate need to fortify their squad in a bid to be more competitive and to banish the ugly memories of their disastrous campaign last season.
Both Barcelona and Real Madrid have made offers to PSG for Neymar, and both bids have been rejected by PSG, who seem to hold the cards at the moment.
Neymar is PSG's player. Whether he wants to play for them again or not doesn't really matter. The fact remains that he is bound by a contract, and can't go anywhere without PSG's approval.
The latest reports suggests that Neymar would have to take a pay cut of 15 million euros (£13.7m), if he eventually makes a successful return to Barcelona from PSG.
Barcelona has offered cash, plus Coutinho already, and have been turned down by Paris St-Germain, for not meeting their financial evaluation of Neymar. 
Real Madrid have also offered cash, plus Gareth Bale and James Rodriguez, and still got rebuffed by PSG for failing to meet their demands for the player.
So, it now remains the question of who is more desperate for the Neymar transfer? Is Neymar himself? Or will Barcelona and Real Madrid raise their bids, by trying to outbid each other for Neymar?
It is definitely clear that the biggest gainers from this potential deal - if it gets to see the light of day this summer - would be Paris St-Germain; who will be hoping to recoup a chunk of the over 200 million euros they shelled out for a somewhat ungrateful Neymar - I must add.
Having kicked off their French Ligues Un campaign with a comfortable win, without the controversial Neymar, PSG would be hoping to rid themselves of his baggage in order to focus on their season.
Who do you think is more desperate for this Neymar move? Neymar? Barcelona? or Real Madrid? Kindly share your thoughts below.  
#####