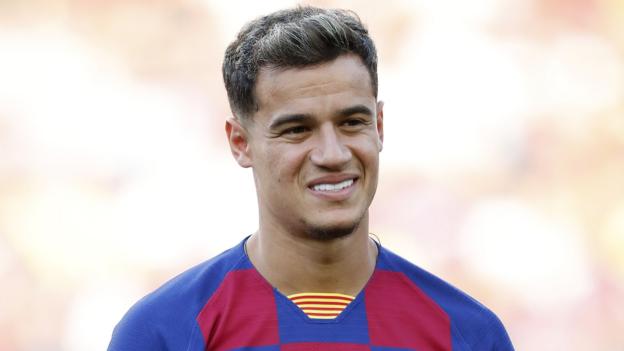 #####
 The case of Philippe Coutinho who is about to be loaned out to Bayern Munich, rings to my ears like the famous biblical phrase of "how are the mighty fallen"?
It has only been one season (for emphasis sake, I repeat - just one season) with Barcelona, and the club is already frustrated and supposedly disappointed with the Brazilian.
The irony of it all is that Philippe Coutinho was the subject of a protracted transfer speculation involving Barcelona and Liverpool during the summer of 2017.
At the time of the 2017 transfer speculations, Philippe Coutinho was the star and playmaker of Liverpool; having established himself after joining the Anfield club in 2013 from Inter Milan.
What I grasp from the period of transfer banter and speculation was that Barcelona were madly in love with Coutinho and did all they could, to sign the Brazilian in the summer of 2017, but Liverpool held their ground and refused to deal.
Even after Philippe Countinho put it a transfer request to force a move to the "almighty" Barcelona; Liverpool still held on to their star man at the time through the summer.
After the close of the 2017 summer transfer window, which led to rancour between the player, club, manager and even the fans; due to his behaviour and attitude at the time, Jurgen Klopp still integrated him back to the team.
He played for Liverpool until the 2018 January transfer window when Barcelona came calling again, and Liverpool eventually allowed Coutinho to go; while finding a superb replacement in Mohammed Salah.
Fast-forward one season after and Coutinho is now surplus to requirements at Barcelona and basically has no long term future with a club he was crazy about joining, and a club that coughed out a huge cheque for him.
The 27-year old Brazilian was a supposed to be a marquee signing for Barcelona from Liverpool for an astronomical transfer fee of about £142m in January of 2018; and was meant to replace Neymar who had made a shock move to Paris St-Germain.
Today however, Coutinho is about to be shipped out on loan to Bayern Munich. It makes one wonder why many talented players keep making the same lousy mistake of going to a club like Barcelona to ruin their career – especially when it is supposed to be clear that they would have little or no playing time.
Barcelona is a world-class team, with a fantastic football system and great crop of world stars. But over the years, they have made it a pattern or policy to lure quality players to their fold, and then send them packing in the most ridiculous forms.
It is clear that they are not a patient club when it comes to giving players opportunity to express themselves. With Lionel Messi in the team, it has always been difficult for any forward or attacking player to arrive at the club and excel.
Still, the temptation is always there for players to go to Barcelona and in most cases end up more on the bench for such a long time than on the field of play; and eventually they end up being shipped out unceremoniously. 
The likes of Zlatan Ibrahimovich, Ibrahim Afellay, Alexander Hleb, Alexis Sanchez, Paco Alcacer, Arda Turan, Aleix Vidal, and Andre Gomes are some of the forward minded attackers and midfielders who have failed to shine at Barcelona despite their high profile before they arrived at the Catalan club.
As of today, Philippe Coutinho has joined the list of unsuccessful big deal signings by Barcelona who have failed to impact on the team, and the Brazilian attacking midfielder is set to join Bayern Munich on a season-long loan, according to recent reports.
Whether the trend of players going to Barcelona to kill and ruin their career is a factor of the club's system or perhaps is the fault of the players who are unable to live up to their big transfer, it does seem however that the influence of Lionel Messi in the forward position is also an inhibiting factor which prevents other players from really shining.
Time will tell if their new signings will have the opportunity to shine or if the purported return of the prodigal son, Neymar would reflect positively in the team. But as for Philippe Coutinho, I do believe he may be regretting leaving Liverpool, where he was a King to join a team that no longer values his services or presence.
#####